Latin America
World News
Venezuelans rally in Caracas to support Maduro
People have rallied on the streets of the Venezuelan capital of Caracas to show their support for President Nicolas Maduro.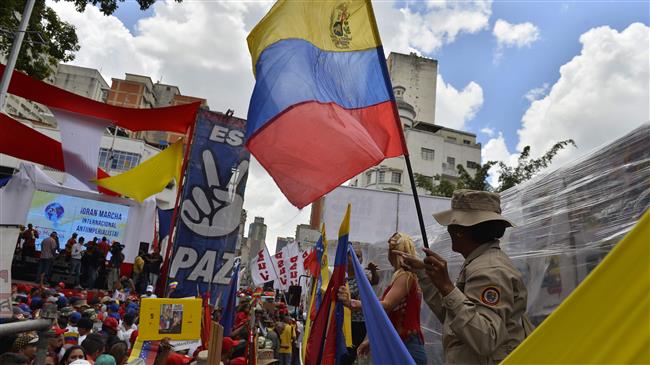 Thousands of demonstrators, waving Venezuelan flags, marched through the streets in Caracas on Saturday.
Members of Venezuela's militia groups also joined the mass rally in the capital city.
"If here in Venezuela it happened that the Bolivarian revolution fell, it would be a huge setback for the people. But rest assured that Venezuela will not fall!" said Diosdado Cabello, president of Venezuela's National Constituent Assembly, in an address to the marchers in Caracas.
"Venezuela rises, and his men and women are kneeling on the ground, rifle at the shoulder, with the backpack of Hugo Chavez in the back. Loaded with dreams and hopes to build socialism," Cabello added, referring to the former, socialist leader of the country.
Venezuela on Thursday won a seat on the United Nations Human Rights Council (UNHRC) despite fierce attacks from US-allied Latin American countries opposed to Maduro's government.
The country secured one of the two seats allotted for Latin America with 105 votes in the UN General Assembly. The development was hailed as a victory.
Venezuela secures UN rights council seat, hails 'victory'Venezuela has won a seat in the UN Human Rights Council, hailing it as an important achievement.
Oil-rich Venezuela plunged into political turmoil in January, when opposition figure Juan Guaido declared himself "interim president" of the country, rejecting the outcome of the May 2018 election, which Maduro won.
Washington and its allies have long been opposed to the Venezuelan government, and they jumped on the perceived opportunity provided by Guaido to attempt to further undermine Maduro.
US funds Venezuela's Guaido with millions of dollarsThe US government has granted almost 100 million to the Venezuelan opposition in order to help it continue its protests against the government of President Nicolas Maduro.
Backed by the US, Guaido attempted a coup against Maduro in April. But he failed. And some of the opposition groups allied to him have also recently been engaging in dialog with the government.
The administration of President Donald Trump has meanwhile imposed several rounds of harsh sanctions against Caracas and confiscated Venezuela's state oil assets based in the US to channel them to Guaido.