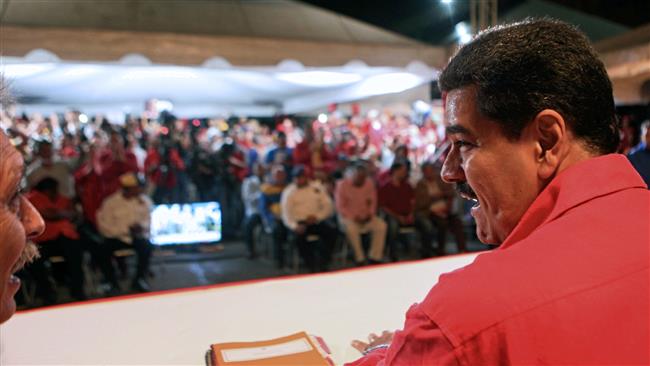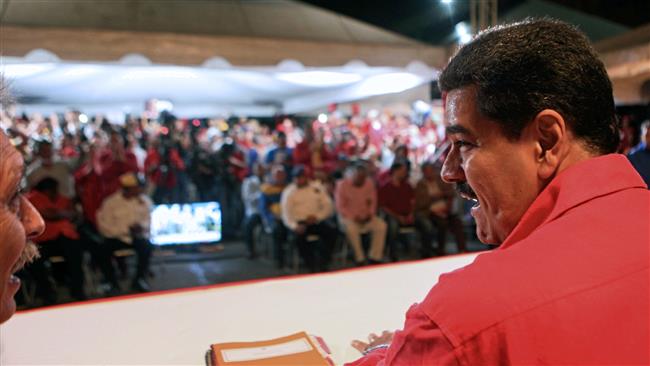 Venezuela's President Nicolas Maduro has reiterated his pledge of a substantial increase in the minimum wage to a crowd celebrating Labor Day in the capital Caracas.
"Yesterday, I announced a comprehensive increase of 35 percent of overall income for workers," said Maduro on Monday.
The minimum wage and pensions were reportedly raised on May 1.
The president ordered an increase in the monthly food ticket to around $17 at the black market rate.
"Do you think a right-wing president could do that?" asked Maduro who is under fire by the opposition for causing the current economic recession through mismanagement. Triple-digit inflation and a severe recession have provoked the opposition to push for a referendum.
"They [the opposition] began collecting signatures to make the request," said Maduro, adding that "to see if they can call a referendum to revoke the people of Miraflores. Because it's not to revoke Maduro; it is to revoke history, it is to revoke [late president Hugo] Chavez. It is to revoke the legacy of a country."
The opposition which swept two thirds of the seats in the Venezuelan legislature in 2015 has vowed to oust Maduro. It has tried to call a direct referendum on whether to remove him from office.
The president, however, has successfully blocked previous bills against him in the National Assembly by appealing to the Supreme Court.
Last week, the Supreme Court blocked one of the opposition's main bids to oust Maduro, ruling that any constitutional amendment to reduce the presidential term could not be made retroactive.
The country's election board, however, gave opposition leaders a document on Tuesday, allowing them to begin the process of seeking a referendum.
If the opposition succeeds in recalling Maduro this year, there would be a new presidential election, which would give the opposition the chance to take over the government. A recall in 2017, however, would leave the presidency in the hands of Vice President Aristobulo Isturiz.
Maduro, however, has vowed he will not be forced out before his term ends in 2019. He has denounced the opposition's plans as a US-backed attempt to bring about a coup d'état in the oil-rich country that is home to 29 million people.
Bolivian President Evo Morales has also signed a decree to boost wages of workers on Labor Day.
"International organizations are recommending no salary increase and above all, especially, that we shrink the State," he said. "But we go on; more workers for health, education and for the police and Armed Forces because the economy is growing."
Morales has overseen steady economic growth at an average rate of 5.1 percent per annum and a large drop in poverty and inequality over the past decade.
Critics, however, accuse him of an authoritarian streak and favoring his own Aymara majority over other indigenous groups.