Iran
Vice-President Reaffirms Iran's Rigid Nuclear Stance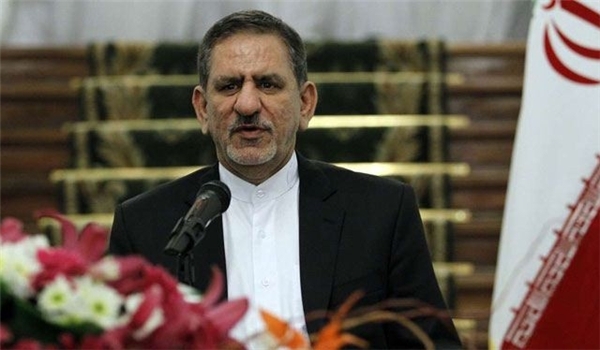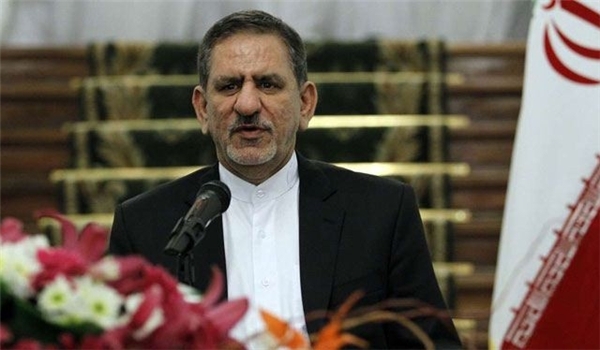 Iranian First Vice-President Eshaq Jahangiri renewed Tehran's firm stance in the ongoing negotiations with the 5+1 (the US, Russia, China, Britain and France plus Germany) group of powers, and said that the country's negotiators are moving within the framework of the guidelines of Iran's Supreme Leader.
"We frankly announce that the world should not think that we have closed our eyes waiting for the negotiations to bear results, we have planned and prepared ourselves for more difficult conditions," Jahangiri said, addressing a meeting in Arak city, Central Iran, on Tuesday.
He noted that the government moves within the framework of the policies of the Supreme Leader, and said, "We are insisting on defending the (Iranian) nation's nuclear rights."
Earlier this month, Iranian Foreign Minister Mohammad Javad Zarif said Tehran and the 5+1 group have not yet reached an agreement over their main bones of contention.
"There are outstanding differences, but it doesn't mean that these differences cannot be resolved," Zarif told reporters after meeting EU foreign policy chief Catherine Ashton in Vienna on October 14.
"Of course, this doesn't mean that a solution cannot be achieved. Everyone believes that this issue can be settled since actually, Iran's nuclear program is a peaceful program and a reality on the ground," he added.
Stressing that working on solutions is necessary, he said that during the Tuesday talks among the Iranian, EU and the US officials, the participants proposed different solutions in a series of serious discussions, but they have not yet reached a common conclusion and "I believe that in case there is a political will, reaching a solution will be possible".
He noted that as long as the two sides don't agree on all issues, no agreement can be said to have been obtained on any single issue.
"Yet, we still have time to reach an agreement," the Iranian lead negotiator concluded.
Iran and the six major world powers ended their 8th round of nuclear negotiations in Vienna on Thursday.
Zarif and Ashton presided over the 8th round of the talks between Tehran and the G5+1 in the Austrian capital.
The 7th round of talks between Iran and the Group 5+1 was held in New York on the sidelines of the UN General Assembly meeting last month.
The two sides held six rounds of negotiations in Vienna to reach a comprehensive deal after they inked an interim agreement in Geneva on November 24.
The Geneva agreement took effect on January 20 and expired six months later on July 20. In July, Tehran and the six countries agreed to extend negotiations until November 24 after they failed to reach an agreement on a number of key issues.