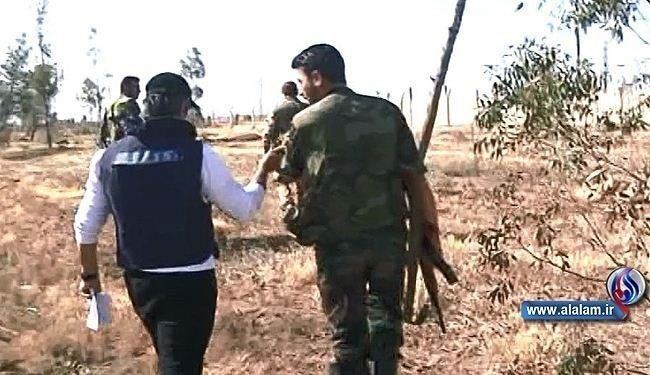 Syrian armed forces have engaged foreign-backed insurgents in the al-Qalamoun region near the Lebanese border and preventing the armed militants to flee the area through the rugged hills of Jroud Arsal and Rankos, al-Alam's Syria correspondent reports.

According to the report, insurgent forces suffered heavy blows in the border area as they faced fierce encounter by Syrian troops while attempting establish escape routes to al-Badia and al-Zobdani areas.
In the Damascus outskirts town of al-Maliha meanwhile, Syrian troops inflicted heavy casualties on the armed insurgents by setting off explosives at a building used as a terrorist staging center as well as a weapons depot.
Syrian Army also targeted insurgent staging grounds in Damascus countryside areas of Jasrin and Zobdin with heavy artillery fire, inflicting more losses on the armed militants.
Al-Alam reporter further cites a Syrian military officer as saying that over 50 percent of al-Maliha is now under the control of Syrian forces.
In another Damascus suburban area of Jobar, Army units also targeted insurgent movements in the Borj al-Muallimin region in an effort to disrupt moves to resupply terrorist forces with more weaponry.
Another Syrian military source told Al-Alam reporter that the Jobar region is entirely besieged by Syrian army troops, adding that army units have been targeting insurgent staging grounds in Borj al-Muallimin and have so far killed a large number of terrorists with foreign nationalities.
Government troops are reportedly engaged in heavy battles with the foreign-backed insurgents in Daraa and have killed or injured dozens of them in and around the city.
This is while Syrian forces have reached a ceasefire agreement with insurgent elements in the al-Waar neighborhood of Homs for the holy month of Ramadan.
– See more at: http://en.alalam.ir/news/1606912#sthash.k3Hhjum0.dpuf