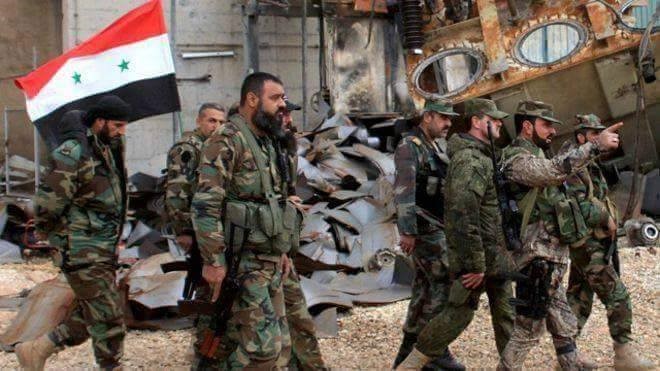 Syrian allied forces continued their advances against Jeish al Fatah terrorists near a strategic Umm Qara village South west of the military academy buildings, inflicting major losses on the terrorists.
Syrian Armed Forces launched a powerful assault to reestablish control over this key site in southern Aleppo.
Led by the Tiger Forces, the Syrian Arab Army (SAA) attacked Jaysh Al-Fateh's (Army of Conquest) positions on the other side of Umm Qara Hill, resulting in a violent exchange of mortar shells and rockets before the Russian Air Force intervened, Al Masdar reports.
According to a local military source, the Russian Air Force has conducted over 20 airstrikes above southern Aleppo today (Monday), targeting Jaysh Al-Fateh's positions inside the provincial capital's southern districts and Al-Qarassi village.
But in north of Umm Qara Hill, the Syrian Armed Forces have infiltrated Jaysh Al-Fateh's defenses at the Aleppo Artillery Academy, leaving them in control of the northern entrance to this imperative military installation.
In these intense fighting Abu Mohhamad Turkistani senior field Commander of Nusra Front or by its new name Fath Al-Sham Front and Also Military Commander of Ahrar Al Sham Abu Salah with dozens more in their ranks killed.
According to Jabhat Fateh Al-Sham's official media wing, "Abu Muhammad Al-Turkestani" was killed during clashes with the Syrian Arab Army (SAA) in Aleppo City's southern districts.
Al-Turkestani is the third field commander from Jabhat Fateh Al-Sham to be killed in southern Aleppo over the last 24 hours.