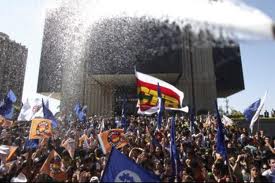 Protests against the country's high interest rates while the Monetary Policy Committee meets–and this time on the eve of a visit from the managing director of the International Monetary Fund, better known as the IMF.
With a fifty basis point reduction in the interest rate to eleven percent, this has been in line with other central banks around the world who have done reduced rates over fears in the eurozone debt crisis will cause another global recession. And those fears are on everyone's lips in Brazil.
The eurozone crisis has overshadowed other domestic problems such as high interest rates and inflation.
Despite domestic criticism over Brazil's high interest rates, its economic model has been praised by IMF Managing Director, Christine Lagarde, having said it's "one of the world's leading emerging markets, and will be instrumental in harnessing the global cooperation needed to address the urgent challenges of the day".
Her stop in Brazil comes days after a Euro bailout package just fell short of the one billion euros needed to solve the debt crisis, and Europe is expected to ask the IMF for extra funding.
As Europe begins to reach a critical moment in its debt crisis, talks over extra funding from Brazil to the IMF are expected to come up on the managing director´s visit. But with decreased growth rates and with cautious measures being taken by the Brazilian Central Bank, fears that the euro crisis will impact Brazil are starting to show.