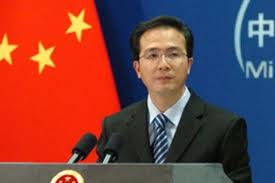 In Beijing , the Chinese government warned against suggestions that China might heed calls by America and its allies for an embargo on purchases of Iranian oil. At a regular press briefing, Foreign Ministry spokesman Hong Lei also denounced the West's newest sanctions against Iran .
The Chinese Foreign Ministry's announcement was made amid mounting tensions between Iran on one side, and America and its allies on the other, following a series of incidents, which, when taken together, are being cited by America and Britain as increasing justification for additional sanctions and even a possible military attack against Iran over its nuclear program.
America and its allies have accused Iran of attempting to develop nuclear weapons. Iran has repeatedly rejected the allegations, saying its nuclear program is for peaceful purposes only.
In mid-October the US government accused Iran of partnering with extremist groups and drug traffickers in a global terror plot to kill the Saudi Ambassador in Washington , an idea that the Iranian government rejected as ridiculous.
Last month, the International Atomic Energy Agency used information provided by Western intelligence agencies to compile and publish a report on Iran 's nuclear program. Although the document's findings were rejected by Iran , America claimed they amounted to credible evidence that Iran was building a nuclear bomb.
Now, in the aftermath of the severing of diplomatic ties between the Britain and Iran, Britain and America are saying the need for additional sanctions against Iran over its nuclear program has never been greater. Many analysts say the EU's shaky economy would not be able to withstand the international embargo on importing Iranian oil that the US and UK are now urging.
China has similar concerns. Experts point out that it has made huge investments in Iran 's energy sector, and is the largest foreign buyer of Iranian oil.
At the Foreign Ministry in Beijing , spokesman Hong Lei said America had not yet raised the issue with China .