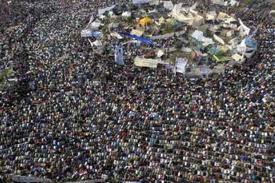 Tahrir Square remains active.Revolutionaries continue to voice their dissatisfaction with the military council rule, their attempts to make the transfer to a public-based governing system and it's treatment of the protesters.
Some people are planning to boycott the election completely.
The 6th April movement had announced 27th November as a day to protest for the "Transfer of Authority and National Salvation Government". Although not all members will vote in the election, they are united in their demand for the removal of the Military Council with immediate effect and their non-acceptance of the newly appointed Prime Minister Kamal el-Ganzouri.
The political parties like Muslim Brotherhood have openly stated their support of the protesters and condemn the actions of the military in the light of recent events.
As the polling stations are being established across the country, Egyptians prepare themselves for what is expected to be the first free and fare parliamentary election in over three decades. Whether the process is to be met with further unrest is remains to be seen.