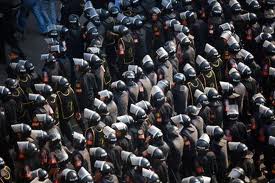 Egyptian Central Security forces opening fire and rubber bullets stormed into Cairo's Liberation Square to dismantle a protest tent camp, setting off clashes that killed some protesters, injured hundreds and raised tensions days before the first elections since Hosni Mubarak's ouster.
Witnesses told Press TV the clashes began when central security forces damaged a tent camp set up to commemorate the hundreds of protesters killed in the January uprising.
Enraged crowds shouted, "the people want to topple the regime" reviving the chant from the early days of the uprising. Crowds also screamed "Police are thugs and thieves" and Down with the Marshal referring to Field Marshall Hussein Tantawi, Egypt's military ruler.
Saturday's confrontation was one of the few since the uprising to involve police forces which have largely stayed in the background while the military takes charge of security.
Violence returns to central Cairo after government security forces open fire on thousands of protesters demonstrating against the military junta, and these protesters have vowed to remain in the square until they topple the supreme council of armed forces.