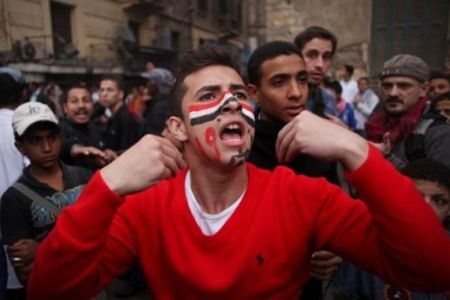 In what was called the Friday of the Last Chance protesters in Egypt's major cities held mass demonstrations calling for an end to military rule.
In Alexandria, crowds gathered outside the Elkaed Ibrahjim Mosque in preparation for a march to the Army headquarters in the city.
The demonstrators called for the postponement of elections which are scheduled to start on Monday. They want an end to military rule before parliamentary elections are held.
The ruling military council took power following the ouster of former President Hosni Mubarak. Since then, protesters all across the country have been calling for a democratic transition to a civilian government.
Since deadly clashes between protesters and security forces erupted in Cairo one week ago, tensions rose in Alexandria, Egypt's second largest city. Three days ago heavy street battles here left 2 people dead and dozens injured.
As the day draws on, thousands make their way to the Northern Military Command headquarters where military security personnel are on high alert. Many of those present feel that the military rule mirrors that of the former regime, and the situation is as dire today as it was during the January 25th revolution. Activist groups have called for an open ended sit-in in one of the cities most prominent squares.
In an effort to defuse the situation, the military appointed the Prime Minister-designate Kamal el-Ganzouri, following the resignation of the caretaker cabinet on Monday. The move was met with anger by protesters, who continue to demand an independent "salvation government" until parliamentary elections can be held. On Tuesday, the Scaf leader Mohamed Hussein Tantawi announced that presidential elections would be held by June 2012, six months earlier than planned.
With only a barbed wire fence standing between them and the army police, protesters are adamant that the next few days will be decisive in determining the fate of the military councils 10 month rule.