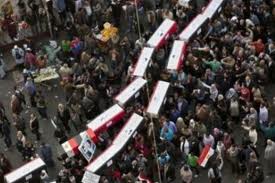 Egyptians gathered again in Cairo on day dubbed "Friday of Restitution for the Martyrs of Mohamed Mahmoud".
Thousands of demonstrators packed into Cairo's iconic Liberation square to reiterate that their main demand is the downfall of the ruling Supreme Council of Armed Forces.
The protesters carried symbolic coffins wrapped in Egyptian flags, chanted slogans against the ruling military council and its head, Field Marshall Hussein Tantawi.
The protesters have demanded trials for those responsible for the killing of protesters, a rapid transition from military to civilian rule and the end of military trials for civilians.
The Supreme Council of the Armed Forces attempted to preempt Friday's protest on Thursday night by issuing a statement pledging that those behind the killing of protesters will face justice, however, those who in their thousands showed up in Tahrir square efforts proved such attempts as futile.