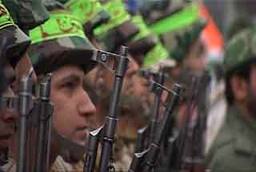 Iran is ready to respond with full force to any aggression or threat against its sovereignty and integrity; that according to Major General Hassan Firouzabadi, chairman of the armed forces joint chief of staff and commander of Basij volunteer forces.
While addressing a massive parade by the armed forces of Basij, Commander Firouzabadi said his forceful language is pure and simple, directed at Iran's enemies, especially the United States and its proxies, who have invaded the region under the pretext of the so-called war on terror.
The forceful language of the Basij Commander follows on and off threats from israel and certain US congressmen that air strikes could be in the offing against Iran's nuclear facilities – although high-ranking US officials have warned of the risks, saying it could have a serious impact on the region, with unintended consequences.
Rhetoric between Iran and its arch enemies israel and the United States, has risen since the release of an IAEA resolution, claiming there has been diversion in Iran's nuclear program. Iran denies any military thrust to its nuclear program. The country's military commanders have also warned that their response to any attack on the country's nuclear facilities would not be limited to the Middle East.