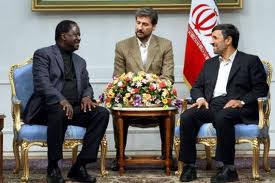 Iranian based Ali Rezza Hassani is settled in Kenya. He has been for the last two years during which he has embarked on several overseas development projects or ODA around the Kenyan region that deal with water and sanitation for remote areas, health facilities, and public schools.
Ali's company ALborz Ponel international is based both in Iran and Kenya and is recognized for its technological outlook and construction. In addition, he supplies several construction products to the booming construction sector in Kenya, and shares his outlook on the untapped resources and Kenya's pitfalls.
A recent visit by an Iranian business delegation to Kenya brought with it new promise. The likely inflow of multi- million shilling investments in the country would tap into the energy, information and communication technology and agriculture sectors. Iranian investors are also eyeing the textile field that would benefit hundreds of Kenyans as they would be part of different levels of management.
Kenya's energy sector has attracted multinational companies, and investors also hope to tap into the electricity sub sector where demand far outstrips installed power generation capacity. Demand for electricity in Kenya has been growing at a rate of 7%, a rate that has been projected to accelerate.
Kenya National Chamber of Commerce and Industry (KNCCI) chairman Stephen Mbugua says the balance of trade has been tilted in favor of Iran among the two countries which have enjoyed a cordial diplomatic relationship.
Kenya has been importing a wide range of products from Iran that include petroleum, chemicals, domestic ware and fertilizers amounting to 11.6 million US Dollars. Kenya on its part has mainly been exporting tea and coffee, amounting to 6.2 million US Dollars. It is an imbalance that needs to urgently be addressed according to KNCCI.
However how that balance is achieved remains to be seen. Kenya is currently in the grip of soaring inflation at 20 percent with 60 percent of its population living with an income of less than half a dollar a day.