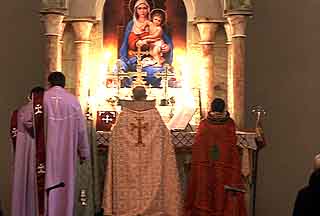 The United States has once again singled out Iran and China in its latest Report on International Religious Freedom as among what Washington calls the violators of religious rights – countries where it claims abuses are ongoing and systematic. Strongly dismayed over the report, Iran's Jewish and Christian community leaders had this to say to Press TV.
The report claims that the situation of followers of various religions in Iran is deteriorating, and that imprisonment, harassment, intimidation, and discrimination based on religious beliefs still continues by the Iranian government.
Many followers of various religions in Iran hold key positions in official bodies and other areas. But the US still claims that almost all minorities suffer varying degrees of officially sanctioned discrimination, mainly in the areas of employment, education, and housing.
Under the Iranian constitution, Christians, Jews, and Zoroastrians are recognized as religious minorities with equal rights and reserved seats at the parliament. Sunni members of the parliament are also from areas with strong ethnic minorities such as Kurdistan and Baluchistan.