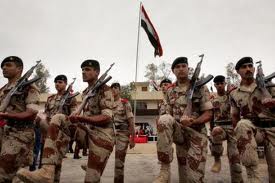 Iraq has held a two-day military drill in the capital, Baghdad, aimed at revealing the country's capability to provide security following the withdrawal of US troops.
The drill, which was carried out in the presence of top Iraqi and American commanders and officers, revealed that Baghdad is fully prepared for the withdrawal of US troops, a Press TV correspondent reported on Wednesday.
It was the first drill by the Iraqi army since the occupation of the country by US-led forces in 2003.
The Iraqi deputy chief of staff said the exercise showed that the Iraqi army is ready to provide security and defend the country without the help of the US military.
The US commanders participating in the drill also said that the Iraqi army is now prepared to take over security and to defend the country against any external threats and aggression.
All US troops are preparing to leave Iraq by the end of 2011 as required by a 2008 bilateral security agreement between the two countries. Washington decided to pull out all its troops from Iraq after Baghdad refused to grant legal immunity to the remaining US soldiers.
Iraqi officials say following the signing of withdrawal agreement with the US, Baghdad has concentrated its effort on building up its security forces and has signed military contracts with the US and other European countries to equip its army.
Over one million Iraqis have been killed in the US-led invasion and occupation of the country since 2003, according to the California-based investigative organization Project Censored.