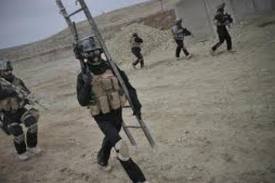 For the first time in the last eight years, the Iraqi defense ministry has held a 2-day Military maneuver in the capital Baghdad to show the Iraqi army's readiness for the withdrawal of the US troops from Iraq.
The maneuver was carried out with the presence of the US and Iraqi top officers and commanders and the participation of more than 521 Iraqi soldiers from the artillery unit using 90 Artilleries artillery caliber 107and 12 missile launcher caliber 122 mm.
The Iraqi deputy chief of staff stated that the Iraqi army has shown its readiness
to defend the country.
He further added that the Iraqi army has been facing the greatest challenge during the last couple of years, which is fighting the terrorism on its own soil.
US commanders confessed that the Iraq army is now ready to defend its soil against any external threats and aggression.
US army commanders praised the efforts of the Iraqi army in defeating the terrorism saying Iraqi soldiers have achieved a tremendous progress saying that the Iraqi security forces have reached a good level of experience to be qualified to defend the country.
The Iraqi people have shown in many occasions their opposition toward the presence of the US troops in Iraq and called on the Iraqi government to end the presence of the occupiers in their country.
Since the Iraqi government signed the withdrawal agreement with the US ,it has concentrated the efforts on building its security forces and increasing its credibility and performance to depend on its own efforts in facing the security challenges without the support of the US troops.
The Iraqi defense ministry has signed many contracts with the US and other European countries to equip the Iraq security forces with the newest military equipments.