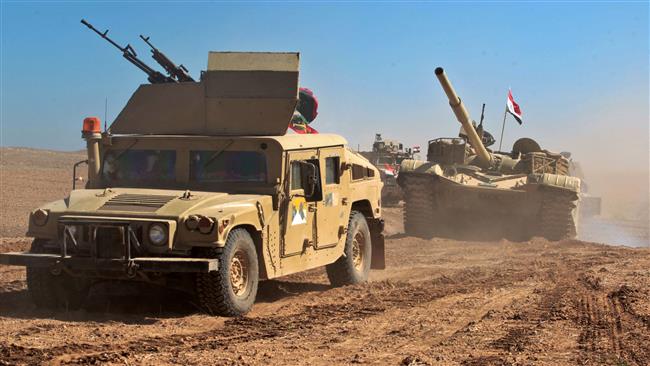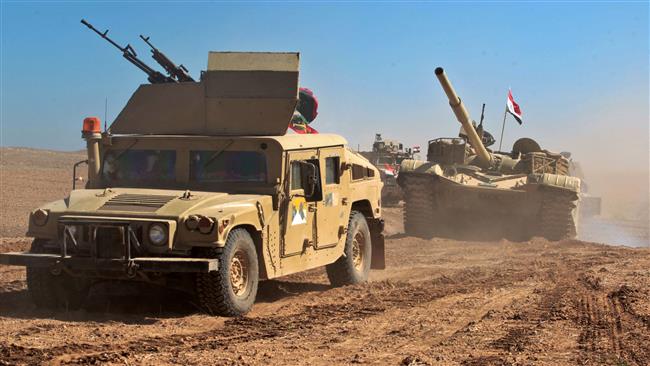 Iraqi government forces, supported by fighters from Popular Mobilization Units, have managed to liberate several villages from the grip of Daesh Takfiri terrorists as they are engaged in a new push to fully recapture Mosul and drive the extremists out of their last urban stronghold in the Arab country.
The media bureau of Popular Mobilization Units, better known by the Arabic name Hashd al-Sha'abi, announced in a statement on Monday that volunteer fighters from the 26th Brigade of the force had wrested control over al-Sahaji village west of Mosul, Arabic-language al-Sumaria television network reported.
The statement added that eight Daesh Takfiris had been killed and three explosive-laden vehicles destroyed during the operation.
Iraqi government forces retook the eastern side of Mosul last month.
Meanwhile, Iraqi forces, backed by jets and helicopters, have pushed northwards towards Mosul airport. The airport lies on the southern approach to Mosul, which is located some 400 kilometers north of the capital Baghdad, and on the east bank of the Tigris River.
Iraq's Joint Operations Command (JOC) also stated that Iraqi F-16 fighter jets had carried out ten airstrikes on the Wadi Akab neighborhood of western Mosul, killing 20 Daesh terrorists in the process. There were several bomb experts among the slain extremists.
The JOC said eight militant positions, six workshops used for rigging vehicles with explosives, two explosive-producing labs, a large cache of munitions, two car bombs and two cars loaded with weapons were destroyed in the aerial assaults.
Additionally, the Sulaymaniyah-based Counter-Terrorism Group (CTG) in Iraq's northern and semi-autonomous Kurdistan region announced that the self-proclaimed Daesh health minister, identified as Dr. Salah Hassan Saqlawi, and several of his close aides had been killed in a joint operation carried out by Kurdish Peshmerga forces and the US-led military coalition in Mosul.
The developments came only a day after Commander of Nineveh Liberation Operation Lieutenant General Abdul Amir Yarallah said soldiers from the 9th Armored Division of the Iraqi Army had liberated al-Dibajah village west of Mosul.
Federal police forces also regained control over the villages of al-Zakroutiyeh, Ebrahimiyah, Tal Kisum, Hussainiyah, Sheikh Younis and Haraqiyat on the western outskirts of Mosul.
'2,000 Daesh terrorists fighting in west Mosul'
Separately, a senior US intelligence official, speaking on condition of anonymity, said on Monday that there were an estimated 2,000 Daesh terrorists in western Mosul fighting against advancing Iraqi security forces.
The official made the remark during a trip to Baghdad by new US Defense Secretary Jim Mattis.
'Over 217,000 Iraqis displaced since Mosul operation'
Furthermore, the UN Office for the Coordination of Humanitarian Affairs (OCHA) says more than two hundred thousand civilians have fled their homes ever since Baghdad launched an operation last October to retake Mosul from Daesh terrorists.
"To date, some 160,000 of the almost 217,000 people who have fled hostilities since October 17 are living in displacement, while over 57,000 have returned to their homes in newly-retaken areas," the OCHA said in a report published on Sunday.
The report added that serious concerns remained for the protection of an estimated 750,000-800,000 civilians in the densely-populated west of the city, where food, water and fuel were already running low.
The OCHA pointed out that between 250,000 and 400,000 people could flee the fighting in western Mosul.