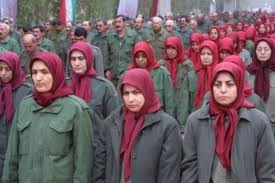 Hundreds of Iraqis from different parts of the country held a protest to show their opposition toward the presence of the Mojahidine Khalq Organization or MKO in Iraq.
Carrying banners with anti-MKO slogans, protesters also called on the Iraqi government to close their camp and evacuate MKO members as scheduled for December 31st.
Camp Ashraf, situated 60 kilometers north of Baghdad, has been the principal home of the anti Iranian group since the group allied itself with Saddam Hussein in the 1980s, receiving weapons and training from his regime.
A number of Iraqi clerics and tribal leaders were among those who had gathered to have their voice heard. The presence of the MKO is also described as a threat to the national security.
The MKO is listed as a terrorist organization by much of the international community, and is responsible for numerous terrorist acts against both Iranians and Iraqis. The group is especially notorious in Iran for siding with former Iraqi dictator Saddam Hussein during the 1980-1988 Iran-Iraq war.