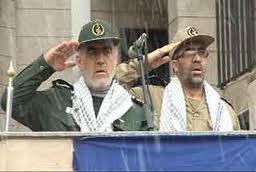 Mobilization of the oppressed, meaing of Basij in Farsi, New ceremonies and speeches were held all over Iran on the fifth day of the BASIJ week. High ranking Islamic Revolution Guards Corps, IRGC officials attended the ceremony
Basij played a crucial role in imposed Iran-Iraq war and it was with its heroic acts and sacrifices that the wave of war was turned in Iran's favor despite Iraq's edge on military equipment it had purchased from U.S, former Soviet Union and Europe at that time. Today Basij has a different front.
Basij is a versatile force established at the beginning of revolution in Iran, more than thirty years ago. Basij has numerous duties that include but are not limited to being deployed to fight drug traffickers in Eastern border, banned good smugglers in Southern Iran and carrying out border guard duties on Iran's border with Iraq.