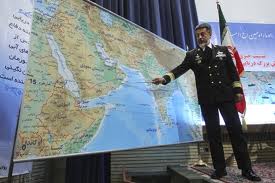 It's all about energy security for the Persian Gulf states and not just Iran. That's why Iranian lawmakers say that Iran should stage regular naval drills in the Persian Gulf and the Sea of Oman to facilitate the flow of oil, because almost 90% of the oil exports transit the Strait of Hormuz – almost 18% of global oil demand.
In the absence of foreign forces, the Iranian MPs say, oil supplies would be more secure than many governments seem to believe. They also dismissed Western claims that the US military is protecting the freedom of the seas or contributing to the region's energy security.
Iran's Navy on Saturday staged a ten-day military drill in the Strait of Hormuz and the Gulf of Aden. The drills are designed to protect the Strait of Hormuz, the only waterway through which eight littoral states of the Persian Gulf can have access to the international waters.