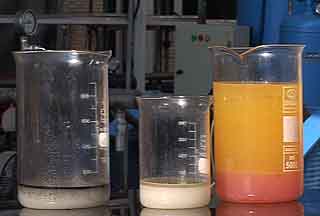 Turning natural gas into synthetic crude oil with more added value and less environmental pollution. This is the simple definition for GTL, one of the most advanced technologies in the energy industry. GTL enables the production of a wide range of chemicals including super clean gasoline and diesel.
Iran's first pilot GTL plant was inaugurated in the presence of high ranking officials. Now Iranian energy company SARV says that it has enlisted its name among the few companies in the world to master GTL technology and aims at bringing it to a commercial scale.
The project is the result of research and development by Iranian experts since 1998. They decided to build the technology at home when western companies refused to sell GTL refineries to Iran following the US lead sanctions on Iran's energy sector.
As the first step contracts were inked between Iran's oil and industry ministries for building two GTL plants in three years each with a capacity of 1000 barrels.
Iran's minister of industries, mines and business said that the national development fund will support a part of the massive project. Mehdi Ghazanfari also welcomed all foreign and domestic investors to take part in GTL ventures.
With more than 18 percent of the total global stock, Iran has the second largest natural gas reserves in the world after Russia.
The state of Qatar which shares the South Pars gas field, the world's largest natural gas reserve with Iran in the Persian Gulf is the world's biggest GTL producer with just above 200 thousand barrels per day. Iranian officials are looking forward to GTL technology as an initiative that would multiply the added value of its natural gas in the future.