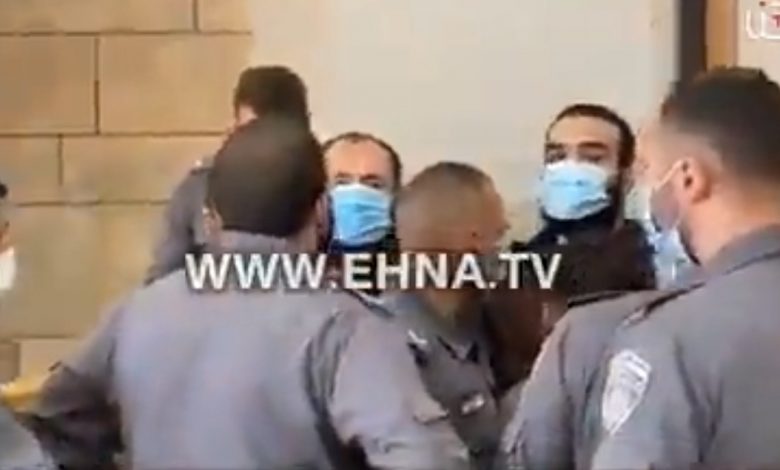 Palestinian prisoners thanked Hezbollah Secretary General Sayyed Hasan Nasrallah as they appeared in an Israeli court in Nazareth on Monday.
Three prisoners, Iyad Jradat, Ali Abu Bakr and Mahmoud Shreim, appeared in an Israeli court on Monday.
They stood firmly in face of occupation guards, as one of them, Iyad Jradat, thanked Sayyed Nasrallah for offering support to Palestinian prisoners.
The three are accused of offering help to Gilboa jailbreak heroes. They belong to Al-Quds Brigades, the military wing of Islamic Jihad Resistance movement.https://english.almanar.com.lb/ajax/video_check.php?id=106889
"We thank Sheikh (Sayyed) Hasan Nasrallah, who ordered our brothers in Hezbollah to be on alert across the border to welcome the (Palestinian) escapees," Jradat said at the court.
He was referring to the last September's Gilboa jailbreak, in which six Palestinian prisoners, Mahmoud Al-Arda, Yaqoub Qadri, Mohammad Al-Arda, Zakaria Zubeidi, Ayham Kamamji and Munadel Infaiaat, managed to escape from the high-security prison.
Four of them were recaptured on September 11- after six days of their temporary freedom- in the occupied territories, while the other two, Kamamji and Infaiaat, were recaptured on September 19 in the West Bank city of Jenin.
In a speech on September 13, Sayyed Nasrallah said Hezbollah fighters across the border between Lebanon and the occupied Palestinian territories were on alert to welcome any of the two escapees in case they managed to reach the Lebanese border.
"Yesterday when it was circulated that an infiltration attempt at the border, we were jubilant and excited. Anyway, it is a duty to defend and offer support to the two Mujahideen," Sayyed Nasrallah said.