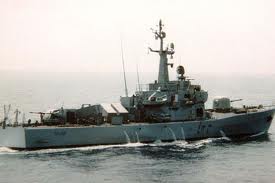 All aboard the good ship Free Libya. Tripoli docks laid on an open day to shed light on its role during the country's revolution.
For some who had lived through 42 years of secrecy, it was a good chance to find out more about Libya's maritime history. This boat was built in 1979 by a French shipyard; it will have seen many incidents as it sailed off the coast of Libya, but none quite as dramatic as events starting on the 17th February 2011 where it helped support revolutionaries.
Libya's naval forces had their role curtailed by a NATO sea blockade during the revolution and much of what they did behind the scenes was secretive. One soldier did not know the significance of the Navy's contribution over the last 8 months.
In the depths of the huge vessel, Captain Hussein Ali Hussein explained why it was important for Tripoli residents to come and celebrate the 49th year since Libya's Navy came into existence.
But up from the Captains deck, the view of Tripoli from harbor will have been etched on many schoolchildren's minds. It will be they who will take charge of bigger and newer ships over the coming years.