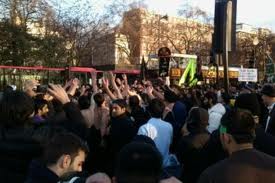 Prayers signal the start of one of the most important days in the Islamic calendar.
Ashura commemorates the martyrdom of Imam Hussein, the Prophet Mohammed's grandson, at the battle of Karbala. This annual event is honored by all Muslims across the country.
These mourners are paying their tributes at the Iranian School in London.
One of the main themes of the day is resistance, one which is particularly significant today.
In central London, preparations are made for a procession to publicly mark this day of respect.
Those commemorating the event explained why it was important to mark the Day of Ashura.
Ashura signifies death in the face of injustice, a feeling which is prevalent right now across the Middle East.
Among these people, there are feelings of solidarity towards those across the world who are facing injustices where sectarianism is being promoted.
Imam Hussein was martyred along with 72 of his companions in Karbala in the year 680AD.
This theme of freedom is on the minds of many.
It's a yearly commemoration, but this year in particular the marking of Ashura has particular significance. In countries like Egypt, Bahrain and Libya, citizens have fought to be represented by a leader of their choice, a reflection not lost in the remembrance of this historic event.