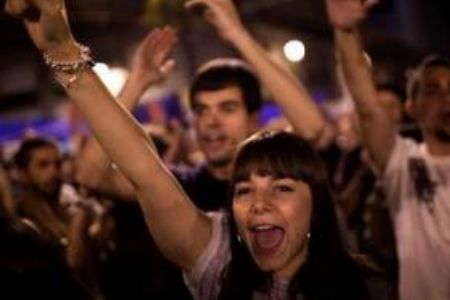 Tens of thousands of people filled up the main streets of Madrid in another demonstration in defense of public education.
This time, protesters highlighted the importance of a protest that has gathered the whole school community, with teachers from the whole pre-university stage and, very especially, students from public university.
The symbol of the education protests, the green t-shirts, continued to be seen in the already well-known 'green tide' for Education.
The protest day included a strike call, sit-ins and assemblies at university faculties and finally, the great demonstration against teaching precariousness under the tagline 'Education is not for sale, it is defended'.
The organizers keep demanding the immediate reinstatement of temporary teachers dismissed this year and a higher investment in public school.
On their part, university students reclaimed a drop in tuition fees, the blocking of the European Higher Education Area and they rejected private funding of public universities. This day of protests have ended without unions and the government of Madrid having reached an agreement.
Protesters were not allowed to reach the Sol Square because it was hosting an electoral event, but they ended up cramming the emblematic spot. The march organizers affirm 100,000 people attended the demonstration.
For the first time since the start of the conflict, university students and teachers have joined the strikes in Primary and Secondary education on their eighth day. It is the last call for action in the public education sector before national elections on Sunday, when the conservative candidate is expected to win by an ample majority.