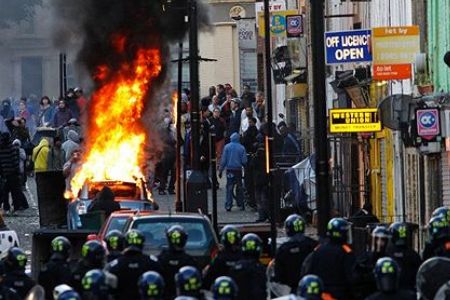 They're among the most iconic images of this summer – flames, broken windows and masked men and women on the streets of London.
The unrest caused a week of chaos across England, now a report by journalists and academics hopes to explain the reasons behind it.
It was here in North London that the unrest started. From here, the disorder spread across the city and on to other parts of England. The study asked two hundred and seventy people why they participated, and of all the problems that were raised, one in particular stood out a mile.
The 'Reading the Riots" study was carried out by London School of Economics, with reporters from Guardian newspaper. Eighty five percent of participants cited "policing" as either an 'important' or a 'very important' factor.
Regardless of where in the country they were questioned, they told researchers that the police themselves were 'a gang' enforcing their own laws. They claimed that people who were arrested were beaten up in vans and accused of crimes they hadn't committed.
In particular, a longstanding mistrust of the police appeared to be held by interviewees of black origin.
Professor Tim Newburn from the London School of Economics was involved in the study, he described some of the motives behind the unrest.
Social and economic factors are also said to have played their part. Unemployment, poverty and inequality were also to blame according to those behind the disorder.
Government policies like the removal of the thirty pound a week allowance offered to children for staying at school and the tripling of university fees provoked anger among young people, while for older participants the unrest is said to have been revenge for a historical and deep-seeded hatred of the police.
It's now hoped that the study will be used to ensure that we see no repeat of the destruction of this summer.
The association of Chief Police Officers admits that forces were taken by surprise and were unprepared for the unrest, but that it's important for lessons to be learnt.