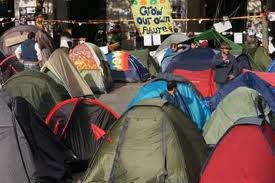 For the City of London, this is the last chance for the protest camp based in the shadow of Saint Paul's cathedral in London to pack up and go home.
Letters have been delivered to individual tents, informing them that they're obstructing the highway and must move by a time specified by the City.
A copy of the legal notice handed to protesters here, demanding that all tents and structures are removed from the area.
If they ignore this notice, that sets the ball rolling for the City of London to pursue their legal action through the courts, where they can request permission to remove the tents themselves. This could lead to some form of forced eviction early next year.
The City has said that no enforcement action will be taken without a further committee debate, meaning that protesters will be able to stay where they are for the time being, most likely for the remainder of this year.
Meanwhile, scenes from across the water at the Occupy Wall Street protests in New York have angered protesters here.
But similar scenes aren't expected here, with one protester claiming that they'll act more rationally.
The deadline for the tents to be cleared came, and went, and nobody moved an inch.
As the City of London officially became able to launch formal legal proceedings, the protesters celebrated their defiance.
City officials are now likely to launch a legal case at a Crown Court, where the camp's lawyers have vowed to defend their right to remain.
They reassured protesters with one final message to the city of London.