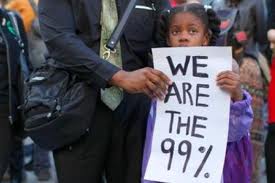 3 organizations: Occupy Wall Street, Veterans for Peace and Occupy the Hood Team Up for a "Teach-In for youth in Harlem".
Highlighting the vital role of neighbors and community, teens from Harlem – a community wounded by many foreclosures – made gingerbread houses with foreclosure signs.
Books were also given as gifts to the students for further reading on the economy.
As New Yorkers gear up for the Christmas holiday season and many struggling with economic hardships, organizers say gatherings like these are important in bringing small less fortunate communities together.
Students talked about the challenges their communities have been facing for years like high teenage death rates, the distribution of illegal drugs and crime and violence in New York's poor and often neglected neighborhoods.
It seems what started in downtown New York's zuccoti park is beginning to develop into a nationwide dialogue on finding solutions to no other than economic equality.