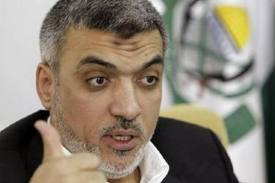 Delegates representing all Palestinian factions held a meeting in Cairo on Tuesday to discuss ways of implementing the Egyptian-brokered Palestinian reconciliation deal signed in May.
Palestinians have been divided between rival governments in the West Bank and Gaza, and the two territories hope to turn into an independent state.
Izzat al-Rishq, a senior official from the Hamas delegation said that all the Palestinian factions expressed their dedication, commitment, and determination to bring an end to all divisions.
In essence, Palestinian officials told Press TV that Palestinian Authority acting chief Mahmoud Abbas will hold a meeting on Thursday (or Wednesday?) to discuss means of developing and reforming the Palestinian Liberation Organization over which he presides.
israel has criticized the Egyptian-brokered deal as Benjamin Netanyahu's spokesperson said that the rapprochement is a move against peace.
The leaders of the main Palestinian factions have agreed to work collaboratively on preparing for the elections and confronting the Israeli occupation.
The deal signed between the two former rivals in May called for the establishment of a caretaker cabinet which would prepare for legislative and presidential elections within a year.