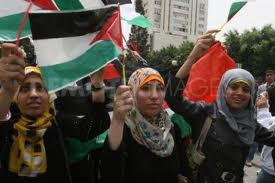 On the occasion of the 23rd anniversary of Yasser Arafat's declaration of a Palestinian state, as well as the commemoration of the 7th anniversary of Arafat's death; acting PA chief Mahmoud Abbas delivered a televised speech to the thousands of Palestinians gathered to commemorate Arafat's memory in the West Bank city of Ramallah.
During his speech, acting PA chief Mahmoud Abbas stressed that the Palestinian Authority will not return to negotiations with israel until israel stops its settlement construction in the West Bank. Abbas also stated that in order to return to negotiations, israel will have to free Palestinian prisoners that have been in Israeli prisons before the 1993 Oslo Accords.
The acting PA Chief also confirmed that he will be meeting Khaled Mesh'al, the Hamas political Chief, on the 23rd of November, to discuss issues concerning unity deal between Palestinian movements of Fatah and Hamas. Abbas reaffirmed the Palestinian Authorities diplomatic efforts in gathering support for Palestine's statehood bid.
A spokesman for Hamas stated that the acting PA chiefs' speech was positive and lays a foundation for a new stage.