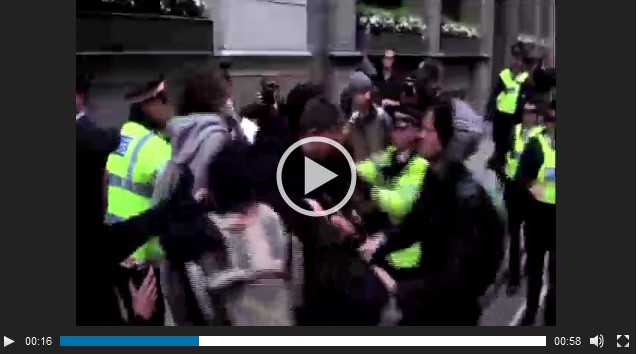 Clashes broke out between police and protesters during an street party in London on Friday to mark May Day and also Solidarity with Protesters.
There were several arrests and police pulled out batons to deter protesters from trying to free the arrested demonstrators.

The roaming party with mobile sound systems, led by Class War, an anarchist political movement, toured the financial district of London and blocked Tower Bridge.
Some demonstrators held a large banner that read "Solidarity from London to Baltimore, no justice, no peace! Class War". The street party was not part of London's official May Day celebrations for International Workers Day.
Last night Protesters scuffled with police in Philadelphia at dusk, before marching through the streets of the US city.
The racially charged violence on Monday by set off by the case of Freddie Gray, a 25-year-old black man who died of a spinal-cord injury under mysterious circumstances while in police custody.
Anger over the death of Freddie Gray while in police custody in Baltimore almost two weeks ago has sparked protests in a number of US cities.
After several protest in different city of us, officers who accused to be involved in Freddie Gray murder arrested and will prosecuted.
.
Protest in US city
In Turkey also police fired tear gas and water cannon at hundreds of May Day protesters on Friday (May 1), after they defied a ban and tried to march on Istanbul's Taksim Square.