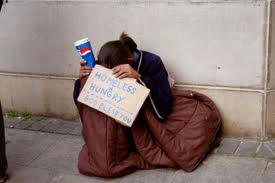 Retail sales in the UK hit their peak at this time of year. But amid the festivities there is one minority that often remains forgotten and invisible to the rest of society.
George is in his thirties. A decade ago he volunteered as an aid worker in Southern Africa. But he later lost his job and his home. Today he lives around London's Victoria train station, and relies on the goodwill of others.
To some, George is an inconvenient reminder of the economic disparity in society. He believes the authorities see the thousands of homeless as a stain on the image of a city which considers itself at the centre of world finance.
Family breakups, job losses, depression, alcohol and drug addiction are just some of the reasons people find themselves sleeping rough. And once homeless, the future is shocking bleak.
New figures show homeless men are dying at an average age of 47 years old, for women its just 43, more than 30 years younger than the national average, and on a par with countries like Afghanistan and Somalia. They're also nine times more likely to commit suicide.
There are some trying to make a difference. Homeless charity 'Crisis' has set up several shelters over Christmas, including this one in the shadow of London's financial district.
39 year old electrician Charles is part of the growing number of newly homeless. He lost his job in April. That set off a cycle of depression which led him onto the streets.
Charities like crisis offer medical help, support with housing and finding jobs, and most importantly food and a warm place to stay. But this is a growing problem.
Amid the economic recession and increasing job losses, homelessness in the UK is on the rise. And while the winter here has been relatively mild so far, it's likely to get colder soon. A winter, that some will not survive.