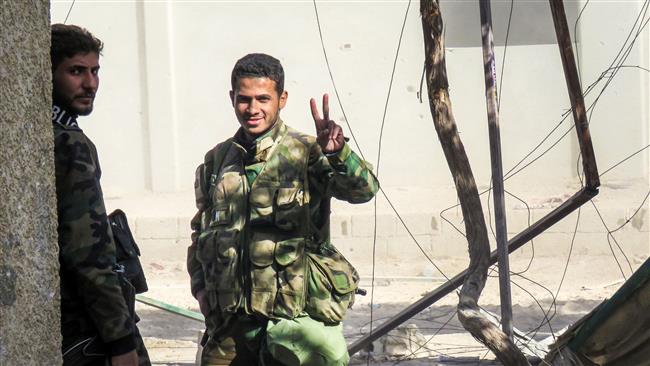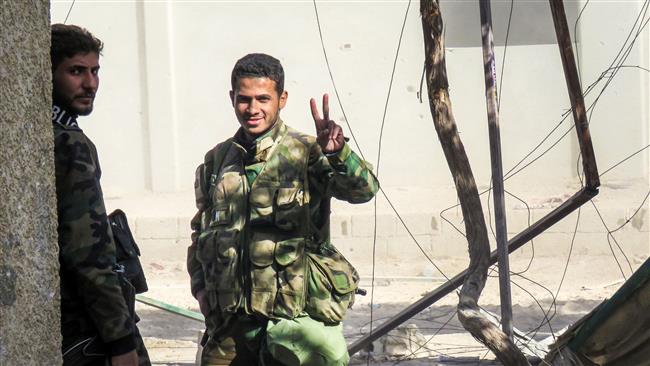 Syrian ground forces and warplanes have repelled a multi-pronged attack by the Takfiri terror group Jabhat Fateh al-Sham in Damascus' countryside.
The terrorists and their allies started advancing from the Eastern Ghouta District near the capital early Sunday. Government forces engaged them in the suburban Jobar District later in the day.
The military killed and injured a number of the Takfiris, destroyed two of the attackers' explosives-laden vehicles, and stopped them as they tried to make an inroad into the district through underground tunnels.
Jobar separates Eastern Ghouta, which holds large Takfiri concentrations, from Damascus proper.
Jabhat Fateh al-Sham was formerly known as al-Nusra Front before purportedly breaking away from the outfit, which operated as al-Qaeda's Syria branch.
Gains in suburban Palmyra
Also on Sunday, the official Syria Arab News Agency (SANA) said the army had built on their advances three days earlier, when they recaptured the al-Madhar and al-Mastadirah mountain ranges east of the central ancient city of Palmyra.
The forces had earlier liberated Wadi Ahmar District and al-Hara Citadel in Palmyra's countryside, and laid siege on the terrorists of the Daesh Takfiri group in the al-Haram mountain range there.
Since 2014, when Daesh unleashed its campaign of terror in Syria, the group has seized Palmyra twice. The army has driven it out on both occasions, the first victory coming last March and the second one the same month this year.