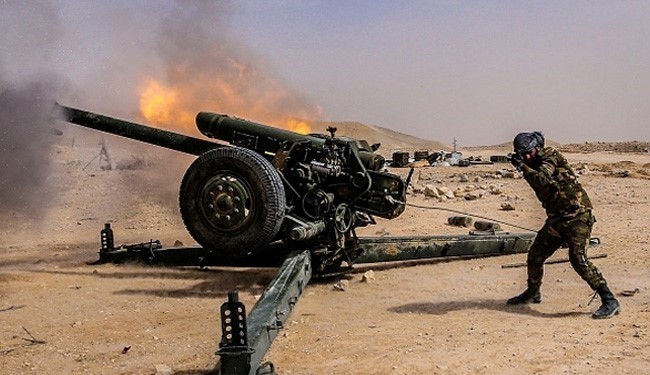 The Syrian army troops and their allies took control of more districts near the military academy buildings and Project 1070 in Southern Aleppo and cut the terrorists' supply route in the region.
"The purging operations of Project 1070 still continue by the army and 90% of the region has been completely cleaned up of terrorists," a field source said on Thursday.
"The militants' supply routes from al-Hakma, al-Rashedeen 5 and even the Northern parts of al-Mushrifa village towards the military academy have been cut," the source added.
He also said that over 100 militants from Jeish al-Fatah, Nour al-Din Zanki, Ahrar al-Sham, Fatah al-Sham and Turkistani terrorist groups were killed and wounded in Southern Aleppo in the past three days.
The Syrian army started a new round of operations to seize back the military academy buildings in Northern Syria on Wednesday.
The army started its operations from the Eastern side of Project 1070 building complexes and the Southeastern side of al-Hamdaniya towards the military academy buildings.
The Syrian army is backed by Russian fighter jets, and the Syrian army's missile and artillery backup.
The resistance forces managed to advance towards technical academy building by cutting the terrorists' defense lines.
Tens of terrorists were killed and wounded in the Syrian army's military operations while many others have fled the region.
The army units and resistance forces also destroyed two military vehicles of Jeish al-Fatah terrorists.
In case of the Syrian army's victory to purge terrorists from the technical academy building, the militants will be blocked to the Eastern part of the Aleppo city and the ground would then be paved for the liberation of al-Ramousiyeh garage.
The terrorists can enter the Eastern part of Aleppo city from al-Ramousiyeh garage.