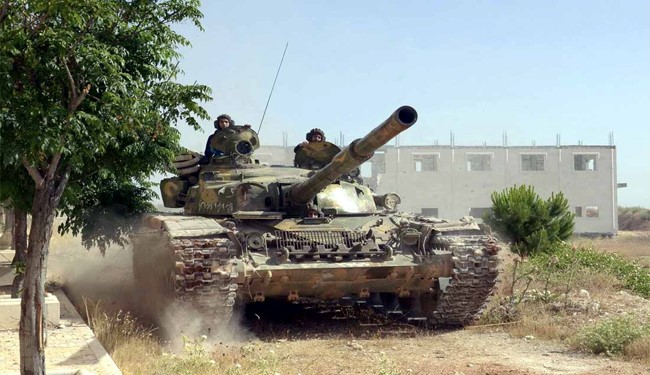 Syrian Army has Inflicted major losses and casualties on the terrorists of Jeish Al-Islam in Eastern Ghouta.
"The Syrian soldiers, in a new offensive on Friday, targeted defense lines of Jeish al-Islam near the village of Hawsh al-Farah in Eastern Ghouta, which has thus far claimed the lives of several militants and destroyed their military hardware," the sources said.
Hawsh al-Farah is important to the High Command of the Syrian Armed Forces due to its proximity to the industrial town of 'Adra, which sits just South of the Damascus-Aleppo Highway (M-5 Highway).
Earlier this week, the Syrian Army troops engaged in fierce clashes with the al-Qaeda-affiliated al-Nusra Front in Eastern Ghouta, inflicting major losses on the militants.
The Syrian soldiers repelled al-Nusra offensive on the government forces' positions in Beit Saber, al-Khazrajiyeh and Hassno near Saasaa town, which ended in the killing or wounding of several militants.
Al-Nusra machinegun-equipped vehicles also sustained major damage in the failed attacks.
In the meantime, the Syrian military forces and National Defense Forces fended off al-Nusra's attacks from directions of Beit Jinn and al-Tuloul al-Homr on the government positions near the village of Harfa, which not only claimed the lives of several terrorists but destroyed their military hardware.