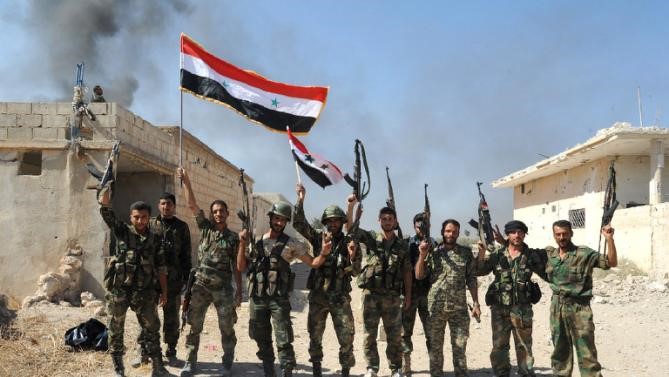 The Syrian army units and its allies seized full control of the strategic town of Bani Zeid in the Eastern parts of Aleppo on Thursday.
Immediately after the development, the engineering units of the Syrian army started demining operations in squares and streets of Bani Zeid.
Field sources reported that the terrorists in the region have badly lost their morale and tens of them have surrendered themselves and their weapons to the governmental forces.
Purging Bani Zeid and Youth Housing regions from the terrorists, the Syrian and resistance forces will now complete the siege on militants in the Eastern parts of Aleppo and their supply routes will be fully cut.
In the Northern and Western districts of Aleppo on Wednesday, Hezbollah's missile units opened heavy fire at the strongholds of the terrorist groups of al-Nusra Front, Ahrar al-Sham, Nouralddeen al-Zinki and Sultan Murad Brigade, inflicting heavy casualties on them.
At least 35 terrorist were killed and many more were wounded in the Hezbollah missile units' heavy attacks on their positions in Bani Zeid, Zohra Abd and al-Shaqif neighborhoods in the Northern part of Aleppo.
In the meantime, the Syrian army's artillery units shelled militants' centers in al-Maliyeh and al-Salat in Western part of al-Zahra neighborhood, pinning down terrorists behind their defense lines.
Terrorists confirmed in their media pages on Wednesday that a senior field commander of the militant groups has been killed in fierce clashes with the Syrian army soldiers and popular forces in Northern Aleppo.
"Commander of Abu Amara Battalions Yassin Najar also known as Khattab was killed in a tough battle with the Syrian pro-government forces in Northern countryside of Aleppo," the sources said.
In the meantime, local sources in Northern Aleppo announced that government forces' advances along Castillo highway and capture of a resort center have cut off completely supply routes connecting Eastern neighborhoods of Aleppo with Kafr Hamra, Hraytan and Anadan in Northwestern side of Aleppo, which in turn has paved the way for easier closure of terrorists' supply lines in Bani Zeid and its Northern areas.