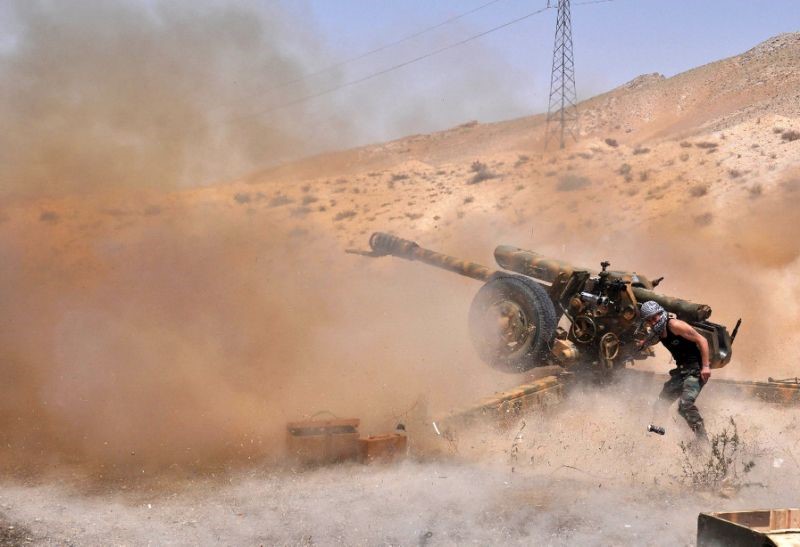 The Syrian army backed by resistance forces continued cleansing of terrorists from the Southwestern parts of Aleppo on Thursday morning after their huge advance yesterday.
The first front of the Syrian army forces' operations in the Housing Project 1070 and al-Jabas market is still the scene of heavy clashes and the terrorists have withdrawn from some parts of the market.
The resistance forces have deployed in their positions in the second front of operations in al-Sanobarat heights and established control over al-Amareh, al-Qarasi and al-Bernadat heights.
Also, the resistance forces deployed in Um al-Qara'a heights targeted the terrorists' positions at the arms college in military academy buildings.
The latest reports from the region said that Abu Hassan al-Shami, one of the main ringleaders of terrorists, was killed in clashes at aviation technical college.
Military sources announced on Wednesday that the Syrian Army troops and their popular allies continued to push Jeish al-Fatah militants back from more positions in Housing Project 1070 and military academy buildings.
"70 percent of the aviation technical college and 80 percent of project 1070 are under the control of the Syrian government forces," the sources said.
"New advances of the Syrian Army in Aleppo districts have cut off narrow corridors of Jeish al-Fatah to the Central part of Aleppo city," they added.
"Over 55 terrorists have been killed in army attacks in al-Amareh, al-Mahrouqat, and Um al-Qara'a," they went on to say.
"The government forces have liberated al-Senobarat heights and are fortifying their positions there," the sources said.
Also on Tuesday, the Syrian army backed by Iraq's Hezbollah al-Nujaba forces advanced deeper into the Southwestern part of Aleppo province.
The army and Iraq's Hezbollah forces managed to take control of several regions in the strategic town of al-Qarasi.
The Syrian army and Hezbollah forces also continued their advances towards the village of al-Amareh and the heights overlooking al-Qarasi town.
The army advances in Aleppo province enables the army to exert pressure on the terrorists in the Northern parts of Hama province as well.