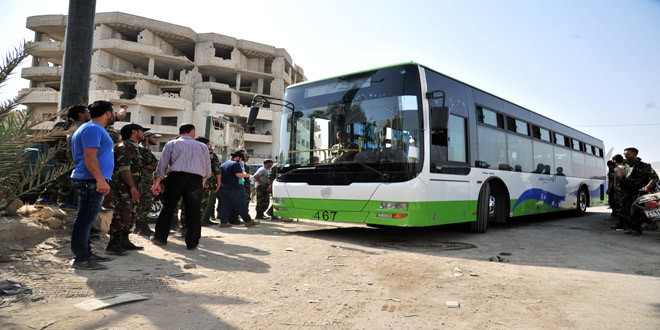 Syrian army has fully evacuated terrorists from liberated Daraya town on Sunday, as part of a deal struck with the government.
A military source said, around 1500 gunmen safe exited from the Damascus suburb to the opposition-held northern province of Idlib, while some 4,000 civilians will be taken temporarily to a shelter south of Daraya.
Red Crescent vehicles were allowed in to evacuate the ill and the wounded.
Daraya's terrorists struck the deal late on Thursday, after four years.
The surrender of Daraya marks a success for Assad government, removing a persistent threat only a few miles from his seat of power, AP reported.
It provides a further boost for the Syrian army as it fights opposition forces for control over Aleppo, Syria's largest city.