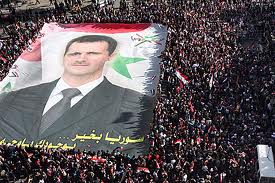 Its another week in Syria that witnessed large numbers of Syrians rallying in support of Syrian President Bashar al-Assad.
Under the title of the Friday of Resistance, Syrians headed following the Friday prayers to Saba' Bahrat square in the Syrian capital Damascus. They held the Syrian flag and posters of president Assad expressing support for his reform program.
Syrians also affirmed their rejection of any foreign intervention in their internal affairs and vowed to show their love and strong support for president Assad and their country every week.
Analysts say the majority of the Syrian people call for reforms but would never accept foreign intervention.
Syrians held placards asserting their rejection of the Arab League's decisions and sanction against Syria and thanking countries that stood by them in this stage of unrest.
Syrians say they will continue their rallies and support for president Assad and his reform program. They stress that the solution for the unrest should be a Syrian one rejecting all foreign interventions in their internal affairs.