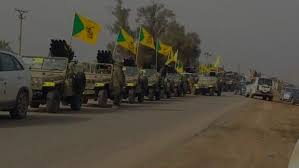 Iraq Allied forces push back ISIS terrorists and now Stationed at 5km from central Fallujah. In the militant-held town of Fallujah about 65km west of Baghdad, Iraqi forces on Thursday are clearing territory recently retaken from the Daesh group.
Iraq's elite counterterrorism forces secured the southern edge of Fallujah and pushed into the city itself on Wednesday.
Under heavy counter-attacks, Iraqi troops swept east across Fallujah's southern Shuhada neighbourhood. The militant group launched mortars and rockets on Iraqi forces.
The operation to retake Fallujah has involved tens of thousands of government fighters, including from the police, army, counter-terrorism service and from the Hashed Al Shaabi, a paramilitary umbrella that is dominated by Shiite fighters.