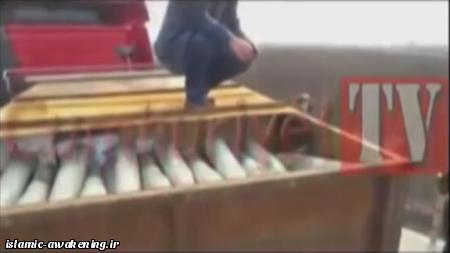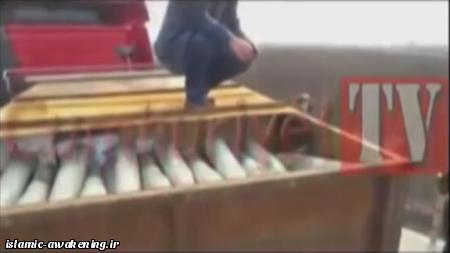 Newly released footage purportedly shows trucks belonging to Turkey's intelligence agency carrying weapons to the Takfiri terror groups operating in neighboring Syria.
The video, which center-left Turkish daily newspaper Cumhuriyet posted on its website on Friday, shows trucks of the National Intelligence Organization (MIT) being inspected by security officers.
The inspectors then spot cardboard boxes inside the metallic container with the "fragile" marking on them. They open the boxes, but find a considerable amount of munitions hidden in crates below boxes of medicine.
It is said the trucks were carrying around 1,000 mortar shells, hundreds of grenade launchers and more than 80,000 rounds of ammunition for light and heavy weapons.
The interception of Syrian-bound weapons consignments took place in January 2014 in Turkey, when a convoy of MIT trucks loaded with arms and ammunition was stopped and searched near the Syrian border in the southern provinces of Hatay and Adana.
The incident triggered a huge controversy in Turkey with many bashing the government for explicitly supporting terrorism in neighboring Syria.
Earlier this month, Ankara arrested four prosecutors who had ordered the search of the MIT trucks.
Investigation into the case has been underway in utmost secrecy with the government strictly filtering media coverage of the issue.
Despite government denials, numerous reports have revealed Turkey's covert support for terrorist groups in Syria.
On May 25, Turkish Foreign Minister Mevlut Cavusoglu said militants are currently being trained and equipped in the central Turkish city of Kirsehir under a joint Ankara-Washington program.
The mission, which officially started earlier this week, will see more than 15,000 foreign-backed militants trained on the Turkish soil in a three-year time period. Over 120 US soldiers are reportedly in Turkey to train the militants.
TRAIN- EQUIP- FIGHT- KILL- SLAUGHTER
USA and Turkey present proudly
GROSS BETRAYAL FROM TURKEY TO NEIGHBORS.
Al-Fatah Brigade that has no difference from savage ISIL and other factions pretends to graduate 1,700 terrorists from military training in Damascus.

If this smoke was in Damascus, their location would be identified by Syrian Army, therefore, they use this smoke on purpose to camouflage their location in Turkey.
While US that has millions of soldiers, Israel with hundred of thousands soldiers were/are defeated against Resistance, what can these 1,700 trained terrorists do against Resistance? They will certainly taste a historical defeat as usual.
If this training camp is not in Turkey, then how could these terrorists hide those tanks in Syria? How possible is it?
While Allosh, the leader of 'Islam Brigade', meeting with the Osama Abdolkarem Al-Refai in Istanbul.
Allosh who came to Turkey 2 weeks ago is seen during an inspection of terrorists in Damascus. If this graduation ceremony were in Syria, would he behave so comfortably?
These well- trained good terrorists carried out a massacre in Jisr Al-Shougur 20 days ago, and beheaded Syrian people.
Turkey was the land where the soldiers were trained to fight against West, but today terrorists are trained to guard Israel and to massacre people.
The whole world will witness how these trained-equip-fight terrorists of DAJJAL get a historical defeat in accordance with the Divine Word.
CIA arms and trains rebels in Turkish soil to fight in Syria
Eric Haroun:"Via CIA and Turkish guidance we took arms from Turkey for Syria War"
Terrorist's confession about the role of the CIA and the Turkish intelligence in arming the terrorists in Syria