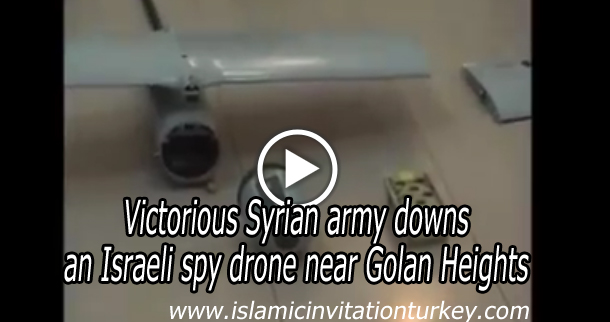 The Syrian army shot down an Israeli reconnaissance drone on Sunday over Quneitra province near the occupied Golan Heights, a military source told Syrian Arab News Agency (SANA).
According to the source, the Skylark 1 unmanned aerial vehicle (UAV) was flying above the village of al-Hadar when it was downed.
Israel seized 1,200 square kilometers (460 square miles) of the Golan Heights during the Six-Day War of 1967, then annexed it in 1981 in a move never recognized by the international community.
Quneitra is located in the "demilitarized" zone of the Golan Heights. The zone is supposedly monitored by UN peacekeepers, since 1974, but has been a site of heavy clashes between the Syrian army and Western-backed armed groups.
On December 5th, the UN General Assembly voted in favor of urging Israel to abide to Security Council resolution 497 (1981), in which the Council decided that Israel's imposition of its laws, jurisdiction and administration in the occupied Golan Heights were null and void and without international legal effect.
It also called on Israel to halt changing the physical character, demographic composition, institutional structure and legal status of the occupied Syrian Golan.
Meanwhile, observers from the United Nations Disengagement Observer Force (UNDOF) confirmed in a report cooperation and coordination between the Israeli army and militant groups in Syria.
The UNDOF report said that observers witnessed several meetings between rebel leaders and Israeli army forces between December 2013 and March 2014, in addition to witnessing the transportation of hundreds of injured militants to Israeli hospitals following confrontations between the militants and the Syrian army near the occupied Golan border.
According to Press TV, the downed drone was monitoring the area on Sunday while the Syrian army was advancing against militant groups.
Damascus has repeatedly accused so-called "rebel groups" such Syria's al-Qaeda branch, al-Nusra Front, who are active in the southern Quneitra countryside, of working hand in glove with Israel, from which they allegedly receive logistic support.
Earlier in December, the Syrian government accused Israel of launching a series of airstrikes on the outskirts of Damascus, causing material damage to institutions in the area.
The Syrian foreign ministry said at the time it had asked UN Secretary General Ban Ki-moon and the UN Security Council to impose sanctions on Israel, describing the strikes as "a heinous crime against Syria's sovereignty."
In the past year, Israel has reportedly carried out a number of raids allegedly targeting key Syrian targets and positions of the Lebanese resistance movement Hezbollah, an ally of both Syria and Iran.
In March, Israeli warplanes attacked Syrian army positions just hours after a bomb wounded four Israeli soldiers on the Golan.
Source: Al Akhbar