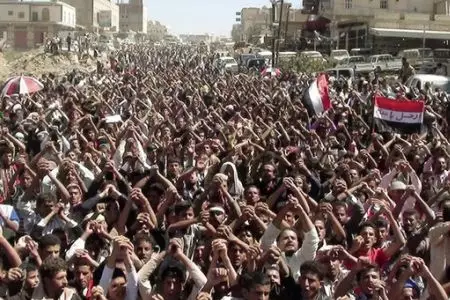 Shelling in the city of Taiz by regime forces has killed at least 8 and injured dozens as fighting erupted between Tribal men supportive of the revolution and forces loyal to the regime.
The government's shelling Wednesday has reportedly damaged residential homes in addition to ruining some of the local infrastructural's. Many residences have starting fleeing the area, as fears of more clashes is expected to intensify in the coming days.
As clashes continue to erupt in the country between tribal forces and loyalist to the Another demonstration in the capital Sana'a gathered tens of thousands of anti-regime protesters to the sixty street, condemning the regimes continuous crackdown.
In addition to calling for the immediate release of all political prisoners detained by regime forces, protesters Wednesday also voiced their disapproval of the PGCC intiative, which grants Ali Saleh immunity from prosecution.
Protesters have made it clear that such an initiative only jeopardizes the primary goals of the revolution, therefore, it cannot be taking into consideration.
Amid the mass anti-regime demonstration which have swept the country for 10 months, the International Union Of Muslim Scholars have called on all Muslims this upcoming Friday to publicly stand in support of the Yemeni people, and the Yemeni Revolution.
Protesters say that anti-regime demonstrations will continue to intensify as the regime steps up its military crackdown on the Yemeni people They have came out to bring an end to the regime they say, and they will not retreat till all demands of the revolution are met.