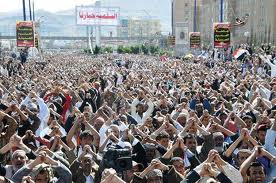 Tens of thousands of anti-government protesters have again taken to the streets of the capital Sanaa, urging Ali Abdullah Saleh to go.
Protesters chanted anti-government slogans, denouncing the regime's violent crackdown on protesters and opposition tribesmen in Sanaa's Arhab district, which has been the scene of intense clashes since late Sunday.
Dozens of people were also killed and many wounded as anti-government tribal forces tried to seize a military barracks in Nahm, north of Sanaa.
As the official reports indicate that an agreement is going to be signed within the coming days to end the long running political crisis, anti government protesters vowed to continue their protests against granting any immunity from prosecution to whom they describe as killers.
Meanwhile, the Deputy Information Minister, Abdu al-Janadi, has confirmed that a power-transition agreement could be signed in the Saudi capital Riyadh.
Political analysts believe that Riyadh's meeting is the best opportunity for the feuding groups to agree on a peaceful way out of the crisis.
Some analysts say Saleh's visit to the training center of the Republican Guards was an attempt to stop the defection of army soldiers as he has faced a insurrection of renegade soldiers besides months-long protests.
As the protests continue with no end in sight, several tribes continue to join the protest camps. These tribesmen are from Saleh's hometown.
Since the beginning of the peaceful protests in Yemen in early February, hundreds of people have been killed and thousands injured.