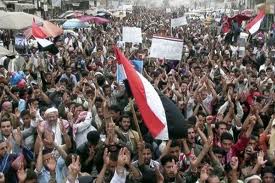 Anti-government protesters have taken to the streets of the capital Sana'a to reject a power transfer deal brokered by Persian Gulf countries.
On Wednesday, Ali Abdullah Saleh signed the deal in Saudi Arabia whereby he will step down after months of protests against his 33-year rule; however, the deal will give him immunity from prosecution.
Revolutionaries have rejected the deal, saying they would not back down until those responsible for the killing of innocent people are held accountable and face justice.
The deal calls on the disputing groups to stop violence; however, on Thursday, a number of people were killed in Sana'a when pro-regime gunmen shot at anti-government protesters.
Analysts say there are several challenges facing the deal, top of which are the continuing regime crackdown and armed clashes.
Saleh, on Wednesday, handed over power to his deputy Abdu Rabu Mansoor Hadi who will rule the country for ninety days until early elections are held.
Anti-government revolutionaries are now chanting slogans saying they will continue their protests until they achieve all the revolutionary goals. They say they won't give immunity from prosecution to whom they describe as killers.