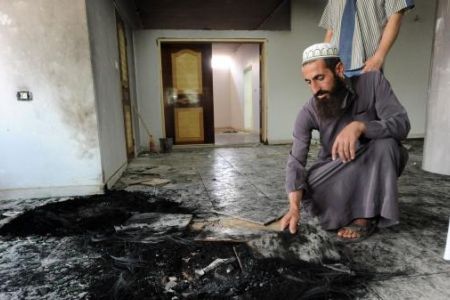 Extremist Israeli Ultra-Orthodox settlers smashed the windows of al Nurain Mosque in the village of Qusra, south of Nablus, and set fire to used tires which they then threw inside the mosque.
The settlers also sprayed graffiti slogans outside the mosque walls including insults against the prophet Mohammad (PBUH) and also sprayed the Star of David on the walls.
Since the beginning of March 2011, Extremist Israeli settlers slashed and destroyed over 1,400 of the villages olive trees, threw rocks at Palestinian cars and have shot and killed sheep belonging to local shepherds.
Whenever Palestinian youth tried to protest their lands and their people, Zionist Extremist Israeli occupation forces who accompany the extremist settlers, would open fire on the protesting Palestinians, leading to the injury of 20 villagers from Qusra since the month of March.
Many assume that these acts are a part of the settler "price tag" policy, under which Israeli settlers attack Palestinians and their property in response to dismantled settler outposts , while others would argue that the attacks on Palestinians by Zionist Extremist Israeli settlers are systematic.
Other settlers gathered between the town of Huwwara and the city of Nablus and threw rocks at Palestinian vehicles passing by.
The latest attack on the Palestinian village and its indigenous population took place at around 1:30 this morning when a group of extremist Israeli settlers snuck into the village and vandalized the mosque.