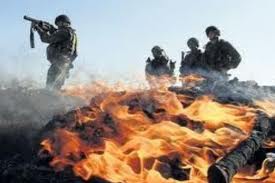 In the latest zionist israeli attacks on Gaza, a Palestinian was killed and five others were injured in a tank shelling east of the city in the early hours of Wednesday. The invading troops were backed by a number of tanks and warplanes that carried out the incursion amid heavy gunfire. The latest escalation has brought the number of Palestinians killed in the last two months to ten.
This incursion was not the first this month, which usually leaves casualties and inflicts damage to property and farm lands. For their part Palestinian resistance factions say that israel is trying to provoke the Palestinian side in an attempt to sabotage the national reconciliation efforts. They affirmed that all options are on the table to retaliate.
The frequent ground incursions and air raids have been intensified recently amid new threats by israeli officials to wage another offensive on Gaza in response to what they say the firing of projectiles from Gaza. Meanwhile Analysts say that israel wants to enforce the fragile truce holding Hamas controlled Gaza responsible for the calm along the border.
The besieged seaside territory has been under ongoing siege since June 2007 and subject to almost daily incursions along the border.
In light of israel's repeated threats to wage another offensive on Gaza, Palestinians in the costal enclave are bracing themselves for more bloodshed.