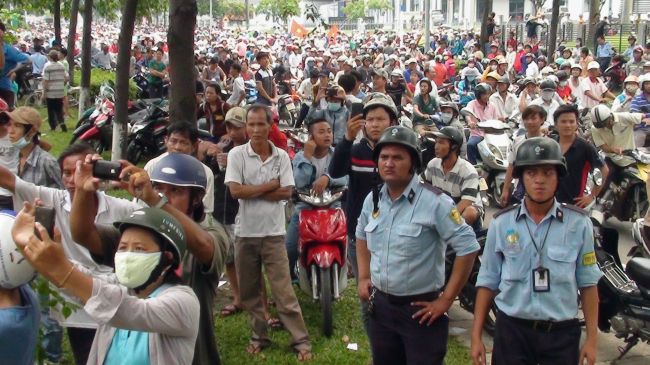 Vietnamese civil society groups have called for renewed anti-China demonstrations in several cities amid Hanoi's warning against all "illegal protests" in the country.
An alliance of 20 Vietnamese NGOs have called for larger protests in the capital Hanoi and other major cities to be held on Sunday over the deployment of an oil rig by China in a disputed region of the South China Sea.
Authorities have warned, however, that they will prevent any further demonstrations.
Prime Minister Nguyen Tan Dung has ordered an end to all of what he called "illegal protests."
The Ministry of Public Security and provincial governments have been ordered to "conduct concerted and determined measures" to stop "illegal protests," the prime minister added.
Beijing's move to install the giant structure in contested waters has sparked the worst anti-China unrest in Vietnam in decades.
Hundreds of Chinese and Taiwanese people have fled Vietnam by land and air.
The two countries have been engaged in territorial skirmishes in the past.
Recent deadly clashes over the controversial oil rig, however, have further aggravated the situation.
Dozens of factories close to the southern economic hub of Ho Chi Minh City were destroyed following anti-China protests by workers.
China claims sovereignty over almost the whole of the South China Sea, which is also claimed in part by Brunei, Vietnam, Malaysia and the Philippines. The waters are believed to sit atop vast reserves of oil and gas.