Latin America
Virus updates: Brazil now 4th worst-hit country; Europe seeing anti-lockdown upheaval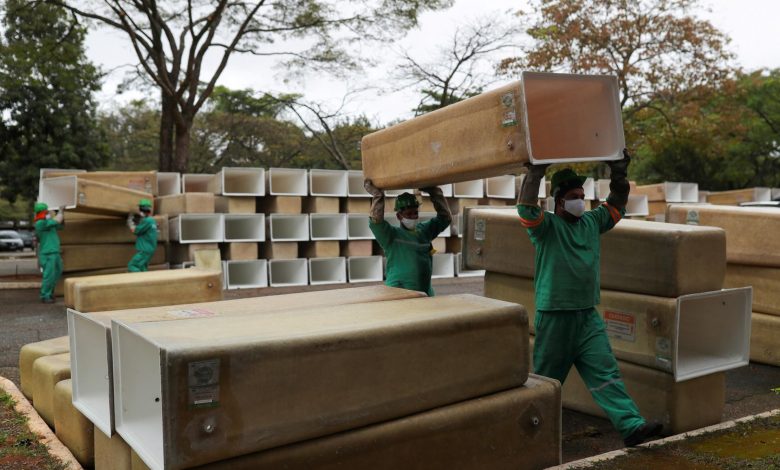 Some 4.72 million people are now infected with the new coronavirus around the world, and 313,260 people have died, according to data compiled by Johns Hopkins University.
Many European governments have cautiously eased their lockdown restrictions, imposed to contain the spread of the new coronavirus, but thousands of people have taken to the streets across the continent to protest against the rules that remain in place.
Meanwhile, Brazil has surpassed Spain and Italy in terms of total caseload, becoming the fourth worst-affected nation in the world.
The first three countries on the list are the United States, Russia, and the United Kingdom.
Here are the latest developments of the pandemic from across the world:
Brazil overtakes Spain, Italy
Brazil's Health Ministry registered 14,919 additional cases of COVID-19 in the last 24 hours, taking the country's tally to 233,142.
The ministry also reported 816 new deaths on Saturday, taking the total to 15,633.
That has piled pressure on far-right President Jair Bolsonaro, who has been defying public health experts to demand the relaxation of rules and to call for the widespread use of unconfirmed drugs. Bolsonaro has downplayed the lethal effects of the disease, calling it a "little flu."
Police in Europe used tear gas against protesters who had taken to the streets in several cities to censure their governments' restrictive rules or response to the pandemic.
UK police arrest protesters
In London, British police arrested at least 19 people on Saturday for breaking social distancing rules in a rally against the government's handling of the crisis.
Police said that "a relatively small group of people" had gathered in Hyde Park.
The protest came on the first weekend since Prime Minister Boris Johnson outlined plans to ease the lockdown.
Under the revised rules, people are now allowed to meet with another person from a different household in a park. The social distancing rules, however, bans gathering of large groups in the country.
Britain, which is behind the US and Russia in terms of caseload, has so far reported 240,161 positive cases and 34,466 deaths.