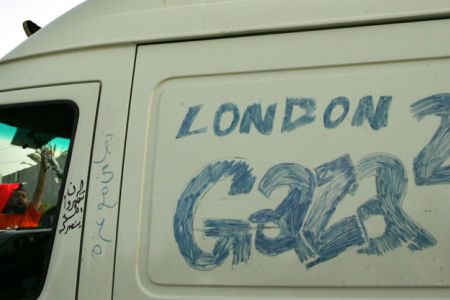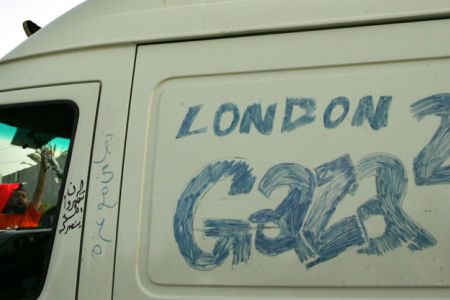 The Viva Palestina aid convoy to Gaza, Lifeline 5, has been met with enthusiastic reception as it makes its way through the Greek city of Thessaloniki.
Part of the aid convoy set out from London on September 18 with more vehicles joining from countries along the way, including France.
After a lengthy drive from the Greek west coast to the city of Thessaloniki, the convoy members enjoyed a break and reorganized for the next part of the journey into Istanbul in Turkey.
"We are here instead of governments. Let us say we represent the conscience of the world…This is a spiritual convoy. It is a convoy that is here to deliver aid but it is also to break the siege," Mark Holt from the Merseyside Stop the War Coalition told a Press TV correspondent during the break.
During the journey, the convoy took the opportunity to hit the streets of the big city and raise awareness of their humanitarian mission.
Throughout Europe, the convoy, organized by former British lawmaker George Galloway, has held public meetings in countries like Italy with the aim of informing the locals as well as highlighting the plight of Palestinians, especially the people of Gaza.
On May 31, a similar Turkish-backed aid convoy Freedom Flotilla, which was seeking to deliver aid to Gazans, was stormed by Israeli commandos.
The assault, which took place in international waters, claimed the lives of nine Turkish human rights activists.
"When the vicious attack on the Marmara happened, it opened up the eyes of people right around the world, even on the other side of the world and many of us felt, we had to be there," leader of the Kia Ora Gaza group, Roger Fowler, told Press TV.
"This is going to be a truly international convoy to try and break the siege and take humanitarian aid to the people of Gaza," Fowler added.
The convoy is scheduled to reach its final destination to the coastal sliver in the next few weeks.
Gaza's 1.5 million residents have been living under a crippling Israeli siege since 2006, depriving them of food, fuel and other basic necessities.